The Fashion Guide to Series 4 (1965–6)
Page 8
White linen safari gear - unlined blazer and matching trousers, with shirt and tie from the previous outfit, initially worn with a beige pith helmet.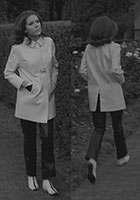 Leather hipsters
Leather hipsters with a white belt, worn with a sleeveless black top. Initially with black and white driving gloves and a white PVC mackintosh.
Worn in:
Sarong
This skimpy floral sarong was taken from the unconscious body of one of the villains, and reveals how much taller than other actresses Diana Rigg is - it only just reaches from low on her breasts to the tops of her legs.
Peaked cap and greatcoat
She's probably wearing the leather hipsters with polo necked blouse seen above, we only see the blouse on screen.
Steed appears to be wearing a navy peaked cap and greatcoat over a white t-shirt, although where he acquired any of this attire is beyond me.
White fishnet body stocking with feathers
White fishnet body stocking adorned with (probably) canary yellow feathers to cover the obvious, worn over skin-tone underwear. Initially worn with her 'Chemin' black and white striped coat and white shoes.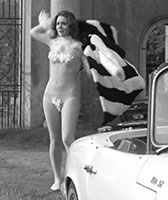 'Chemin' black and white striped fur coat
She wears a black and white striped fur coat, dubbed "Chemin" by the designer, John Bates, worn over the golfing attire seen more clearly below.
Worn in:
Suede jacket
He wears a light brown suede military-style wind jacket with matching trousers. the jacket has epaulettes and patch pockets with metal stud fastenings, and the jacket zips up. Underneath he wears a dark collared shirt and mid-tone jumper with probably forest green neck and hem. It must have been cold during filming!
Golfing attire
She wears a hipster golfing outfit - white military-style shirt (chevroned pleated patch pockets, epaulettes and tight cuffs with black metal buttons), worn with cream hipsters with a canvas belt and black and white checked scarf. Initially with the coat above.
Slate grey overcoat
Slate grey double-breasted overcoat, single vent, thick black collar, flat pockets and black leather buttons. Worn with a black bowler, black leather gloves, black umbrella and black trousers. He's wearing a white shirt and dark tie, but if he's wearing a jacket under the coat I can't tell - this outfit also turns up in the colour season.
Worn in:
Quick-Quick Slow Death Briefly worn with an Admiral's hat (top right), then with a shiny topper (bottom right) for comic relief.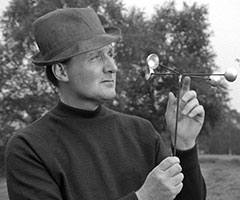 Dark skivvy, light plus fours
Checked plus fours with a dark rollneck skivvy and soft hat. Worn while Steed's running around the golf course - the hat is revealed to have been lined with a metal band to prevent him dying when shot by a golf ball.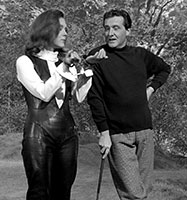 Leather catsuit with a waistcoat
Leather catsuit with a waistcoat styling to the torso, worn with a her white blouse with the loose cuffs and roll-neck, along with Edward Rayne's black and white boots. The catsuit zips up the back.
Worn in:
'Calvary' black coat with cross motif
He's wearing his Prince of Wales check jacket, while she wears a black and white coat with a cross motif. The coat is bone with black trim down the buttonholes and around the false belt, as well as a black collar, the cuffs are untrimmed. The dress underneath the coat is the negative of the coat, with a black body and white trim, but no collar. This is worn with black and white shoes, driving gloves and beret.
Worn in:
Black blouse with white lace collar and cuffs
Black blouse with white lace collar and cuffs, worn with an ivory skirt with a high waist. Accessorised with a black and white handbag and white dancing shoes (not visible here).